Rear Projection 3D Screen
This is a 3-dimensional screen that uses a transparent mold which has been processed for projections.
Thanks to using rear projection, it can display a new type of digital signage that makes use of the textures of three dimensions.
See our Video Gallery (Exhibitions etc.) for the actual video.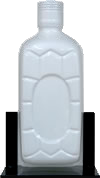 A new form of digital signage which attracts plenty of attention!
The Cubic Screen can be used for variety of purposes.
Displays and advertisements at stores
A guide at events and sales
Product PR on a display rack
It can be used for marketing when connected to a button switch and a printer.